Strange Wood Heater Location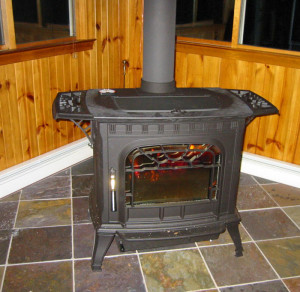 This photograph shows an attractive antique looking wood heater which I found on hearth.com. . . . but its location looks very odd to me:
As it has been placed in front of varnished timber it has had to be placed well away from the corner meaning it's taking a lot of space away from the room.
A large proportion of the radiant heat from the stove, and the stove pipe, will be lost through those windows behind it.
Any attempt to reduce the heat loss through those windows by curtains will increase the fire risk.
You need to remember that wood heater efficiency isn't just about the stove. . . . it's also about the location.