Creating a Traditional Timber Frame Home Plan
Guest post by Tyler Linden
Traditional timber frame home plans can be a wonderful way to build while being environmentally conscious, because they're efficient, long-lasting, and strong.
Many timber frame houses standing today in Europe date back to the 12th century, and some date back to the 17th century in North America.
This is a testament to the longevity of timber frame homes and their solidity throughout the ages – what this really does, is help reduce waste throughout time.
However, even a solid timber frame left neglected and exposed to the elements over centuries can start to deteriorate.
If you find a century-old timber frame home (or even an old barn) here is how to restore it to make a new home.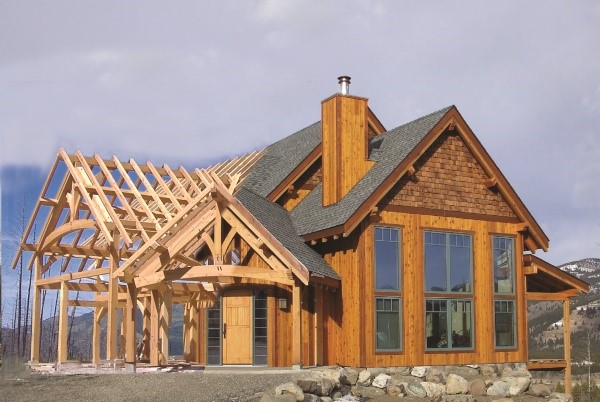 First, you need to assess if you have a structural problem or a superficial one.
If the structure is a little rotten or if the bones of your home have been shredded by termites, you'll need a timber frame home plan, whether it's a full or partial, to help you renovate or build a new, while being respectful of the environment.
Superficial Damage
If the problems with your home are largely superficial—for instance, if the siding is ripped up or the doors are eaten through—than your solution is fairly simple.
Peel off the layers of the house to get it down to the bones.
Then salvage the wood that you can, replace the wood that you can't, and reconstruct the parts that are damaged with new, clean wood and siding.
Structural Damage
If your problems are structural—if, for instance, your house has been eaten through by termites—then your solution will need to be more complex.
First, identify any wood that can be salvaged, because you'll be reducing your construction-based foot print.
New structural timber frame pieces are expensive for two reasons.
First, they are large: a small structural piece is 150mm by 150mm, while larger timbers can be 300mm x 400mm with lengths of up to 9m.
Second, timber frame homes aren't kept together by nails. They are put together using wooden joinery crafted to exacting standards by skilled craftsman.
When deciding what to keep and what to discard, it is recommended that you first hire a qualified firm or engineer to assess what can be repaired or what needs replacing.
Although it's better to err on the side of caution, you don't necessarily have to scrap every piece of wood that has damage.
Structural epoxy can sometimes be used to rebuild pockets of rotten wood in the timber, as long as these pockets aren't too large. . . . they should be, at a maximum, as large as a softball.
You can also use steel straps to strengthen joins, rather than ordering a new piece of wood. , , ,not ideal, but can be an option.
When it comes to replacing the timber, you need a qualified supplier.
Many companies can replace damaged timber in old homes by using new structural-graded timbers that are shaped and distressed to match the timeless look of the timbers in the rest of house.
Carefully Plan Your Method Of Attack.
One element that's overlooked when beginning a project like this is the importance of having a well-organized site.
Mark out a large, flat site next to your house to work.
If there's not one, you may even consider clearing one in order to be more efficient.
Number every piece of wood, so your pieces don't get confused with others. . . Timber frame homes make this easy, because even in the 19th century they tended to be built along similar lines; so you can easily mark, for instance, all the right front corner posts.
Numbering every piece will make your life a lot easier when it comes time to replace damaged wood with new pieces.
Before you start removing timbers it's important to make the building stable.
Your house is already damaged, and you'll be ripping out siding and even structural pieces, so you need to take precautions to ensure that the entire thing doesn't collapse on top of you.
Cribbing is an excellent idea, but as with everything else, you need to have an organized timber frame house plan.
You need to lay out a plan pre-emptively for your cribbing so that it supports the areas that need support, without impeding your ability to maneuver.
Building a stack of cribbing right in front of the chimney that needs to be ripped out, for instance, may not be the best idea.
Finally, you'll need to deconstruct the structure, ripping off the old and worn wood to replace it.
What that involves will depend on the scope of your problem.
Preserving Your Timber Frame Home
The last step is to strengthen the wood so that weathering is less damaging in the future.
SANSIN water-based sealers, for instance, are an environmentally friendly option that can toughen the outside of the wood.
Textured finishes can also strengthen the wood while giving your timber frame home a rustic appearance.
Finally
A timber frame house plan isn't easy, but it can be much better than losing your treasured 17th or 18th century timber home to damage.
If you decide to tackle this project yourself, these tips should get you started.
If you'd like to hire someone to help, there are many excellent firms out there that have plans that are adaptable to any type of needed renovations.
Regardless of whether you hire help or renovate your house yourself, you'll end up with a structure that's beautiful, historic, pays tribute to the environment, and as strong as anything built today.
Tyler Linden is a blogger for Hamill Creek. He has a background of structural engineering and he loves to spend most of his time playing in the great outdoors. You can find him on Google+ and on Twitter.