Guest post from Hubert Dwight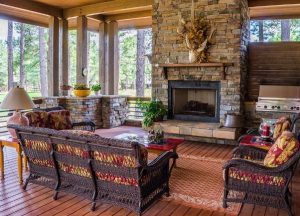 6 Ways to Reinvent Your Outdoor Setup For Year Round Comfort
Enjoying sunlight, fresh air and are a gentle breeze are some of the simplest, yet most enjoyable things in life.
It's little wonder that we desire an outdoor living area as a part of our home.
We are able to combine the best of both worlds – all the creature comforts of being indoors with all the sights, sounds and smells of natural surroundings.
Whether your outdoor living space is a balcony, a patio, a deck or some other set up, it needn't matter the season – you can enjoy your little slice of heaven whatever the weather, all year round.
Don't quite believe that's possible? Well, just take a look at these handy tips and you'll be 'living it up' in your outdoor area – even in the dead of winter!
1. Adequate heating
Being able to enjoy an outdoor living space all year round is all about keeping cosy no matter the season.
To achieve this, you first must think about sourcing adequate heating options.
These need to be safe and functional.
Ideally, the should also be cost effective.
The most efficient outdoor heaters are electric.
Not only are they energy efficient, they are great for the environment – and, your pocket too.
2. An enclosed, or partially enclosed outdoor area
There are a few methods that you can consider in order to make your patio, pergola or other form of outdoor living area 'transeasonal'.
This means that you can use it whatever the temperature or weather.
You could consider installing a roof and/or enclosing the space with screens or shutters to turn it into something akin to a sunroom when the weather is colder and/or blusterier.
You could also look at some kind of temporary roof cover.
Another option is to install insulation in a pre-existing structure.
This will make the area considerably warmer.
Using weather proof materials will ensure your space is usable – rain, hail or shine.
Homeadvisor is a great place to start when looking into options on this front as the site offers some very useful information on the most common solutions in outdoor enclosures – and, just what they are likely to cost you.
3. An outdoor kitchen
Yes, you heard right – creating an outdoor kitchen is the perfect way to generate warmth in your living space.
It might be a simple as a BBQ, a wood fire oven – or, you could even consider a fire pit or a built-in fireplace (always keep safety in mind) to make your outdoor space viable for entertaining guests – whatever the season.
An outdoor kitchen is also a great way to enjoy those yummy, wafting aromas of whatever it is that you might be grilling/roasting or toasting.
Marshmallows anyone?
Ikea is the master of innovation when it comes to maximising the utility of any given living space, and that holds true when it comes to outdoor kitchen products, designs and inspiration.
4. Weather resistant furnishings
Choosing the right furnishings for your transeasonal living space is really about thinking about what materials will go the distance.
It's about investment.
Look for furnishings that offer both form and function and are made using materials that can weather a harsh summer sun (resistant to fading and chipping) but, will also be mould-resistant and retain warmth during periods of rain and/or during the colder months.
Wicker and aluminium framing seem to be the firm winners when it comes to popular and versatile materials.
Check out what lifestyle blog The Spruce considers to be the best outdoor furniture brands currently on the market – especially in terms of
weather resistance.
5. The right accessories
Don't underestimate the ability of the right accessories in transforming your outdoor living space.
Adding your personalised touch via such elements as stylish scatter-cushions, plush throws and textured outdoor rugs can really up the ante, turning your living area into your very own ultra-luxe 'at-home mecca'.
Select sensual fabrics (like faux fur and chenille) to bring a touch of opulence.
For an outdoor space that you'll want to cosy up in right this minute, consider home accessories in soft, earthy hues and finely weaved textures.
Need further styling inspiration?
These beautiful examples from HouseBeautiful are sure to get you in the mood for decorating.
6. Bringing it all together
It's all about making your outdoor living space as inviting as possible.
The additions of some lanterns – or, perhaps even some fairy lights and an ornamental statue or two – can really tie it all together.
Include lots of options for lounging, and don't forget your four-legged friends.
If you have pets then why not bring a dog or cat bed into the equation?
If you don't have animals, maybe a bird bath will bring extra joy?
Fill your outdoor area with jovial frivolity and the spirit of togetherness.
That's the ultimate way to create an extra layer of warmth.
There you have it – 6 ways to make your outdoor living area a space for all seasons.
For you, it might be all about entertaining. . . or, it might just be about having a cosy nook to relax.
Whatever the case, it's all about whatever makes you and your family/friends happiest in your home environment – all year round.