Best DIY Affordable Home Improvement Ideas
Guest Post by Elena Willson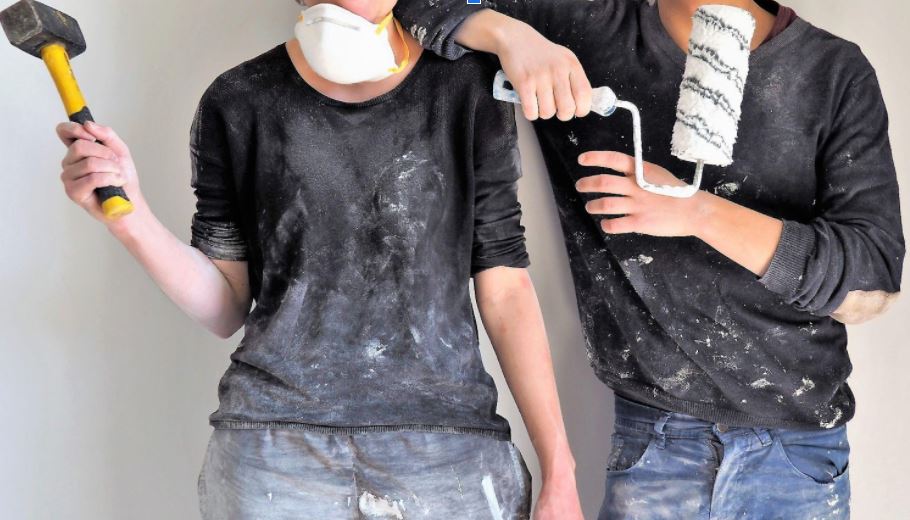 DIY home renovations are fun and rewarding.
If you are planning to give your home a new look, ,or even sell it, you need to think about the cost of each project.
Not all projects are wallet-friendly and some may not be enticing to potential buyers.
That's why you need to take a look at these simple DIY home improvement ideas that can transform your home without breaking the bank.
Getting Ready
However, before we delve into the projects, let's highlight some preliminary steps you need to take.
A.  Survey Your Home
Grab a pen and notepad and take a walk around your home.
Start with the interior and then move outside.
Take note of any fixtures that look dated, worn out, or very dirty.
Pay special attention to your kitchen, living room, bathroom, and bedroom.
Outside the home, take note of the state of your front door, sidings, and other parts of the front yard.
Remember that a poor first impression can turn off potential buyers, so you need to pay special attention to your home's frontage.
B.  Draw Up a Budget
After moving around your home, you will have a long list of potential DIY projects. . . but don't start yet.
Re-order your project list so that urgent and important projects come first.
Then find out what you will need to complete each of those projects and the expenses you will incur.
If one of your projects is painting your living room walls, for instance, you can write an estimate for the materials and tools you will need (paint, scrapers, brushes, rollers) and the estimated cost.
Repeat this for all the projects on your list.
C. Watch Some DIY Videos
Whether you are an experienced DIY enthusiast, with many completed projects in your portfolio, or you are a newbie,  watching home renovation videos will be of great benefit to you.
You'll find that these days, when it comes to home improvement, just about every topic is covered by various professionals and amateurs alike.
These videos are in essence visual tutorials, and you'll need to find the ones that are relevant to your project.
These instructional videos will help you compare various working methods as well as inform you about precautions you need to take on some hazardous tasks.
You can also discover new methods and tools to save you precious time and money.
Projects
Now, let's see some simple and affordable DIY projects.
1. Upgrade Your Kitchen Cabinets
Kitchen cabinets form a large part of most remodeling projects. But you can transform your kitchen cabinets without spending a fortune.
In most cases, all you need to do is to repaint or change the cabinetry doors. That means you may only need to order new doors.
However, you will only spend a few hundred dollars if you do any of these three things:
Remove the doors to create open shelves
Install new molding or trim
Paint the old cabinet doors or add a new stain.
2. Update Your Flooring
Updating floors can be easy and affordable. Whether you have plywood, hardwood, linoleum, or tile, there are different flooring ideas that will suit your budget. Consider using one or more of these materials:
Vinyl floor stickers: These work well in areas of your home with minimal traffic like a laundry room that you use a few times a week.
Luxury vinyl plank or tile: This type of flooring floats so you can install it on top of other existing tiles without having to pull them off. They work well in kitchens and bathrooms.
Sheet linoleum: These modern vinyl sheets are both beautiful and affordable. You can install them in your bathroom. Simply measure the space, stretch it out and trim the edges before sticking it to the floor.
3. Renew Your Walls
Renovating your walls can be done on a shoestring budget, especially if they are not badly damaged. Try any of these ideas to spruce up your walls:
Fill and Repaint: Apply spackle to cracks and small holes. Then proceed to repaint your wall. A standard-sized room needs just one or two gallons of paint.
Get Creative With Stencils: Buy a stencil, stick it to the wall, then use fine paintbrushes to paint around the open areas.
Apply Wallpaper: Get wallpaper, glue, and a long ruler. Use your creativity to apply the wallpaper at wall corners, on a single wall, or on all the walls, depending on your preference.
Hang Fabric: Get curtain panels and fabric of your choice. Place the panel near the ceiling and hang the fabric on the wall.
4. Paint Your Front Door
Renovating the front door can work wonders in improving your home's curb appeal.
To give your door a spotlight, select a bold accent color that blends or contrasts well with other exterior parts of the building.
In addition, you can modify the plaque of your house number and replace your mailbox with a more beautiful one.
It's a cheap way to create a new look and feel for you or your visitors.
5. Clean up Your Vinyl Siding
If your home has vinyl siding, you can make it look new by cleaning it.
You don't need to call in an expert or rent a power washer either.
Get a scrub brush with a long handle, a high-quality cleaning solution, and a garden hose.
With some elbow grease, you can clean the siding, and give your home a fresh look.
Renovating your home does not have to be tough and expensive. With good planning and budgeting, by applying these ideas, you can create a new look in your home without going into debt.