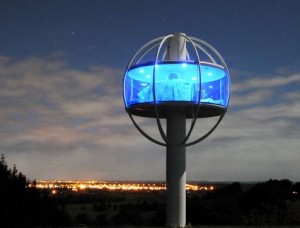 A couple of weeks ago I was in New Zealand where people refer to their holiday 'shack' as a Bach.
Some of the Bachs I saw were anything but shacks.
The Bach in this photo is the weirdest that I heard about,
It's called the Skysphere.
It is the personal project of Jono Williams and is app-controlled and solar-powered.
For more information check out Jono's web page at The Skysphere.
For more Unusual House Photos, Wins, and Fails, have a look at: What the………………….?