Off The Grid In Little River
Is living off the grid realistic?
To find out I recently visited an open day of this "Off The Grid' House in Little River, Victoria.


All the electricity for this large 38 square 4 bedroom house are generated from solar panels on the garage roof.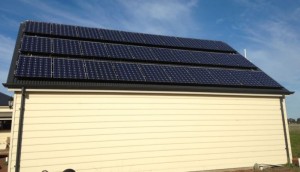 The 30 north facing panels can generate up to 5.5 kilowatt.
The power is stored in a 48v battery bank that can provide around 22 kilowatt hours per day.
The Battery Bank is a little bit bigger than a standard chest freezer. . . much smaller than I expected.
On the October day I visited the battery bank was already 98% charged at 10.00am, so already recovered from the overnight power use.
Want to find out more? . . .  then visit this link:  theoffgridsolarhouse.com