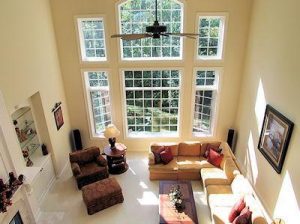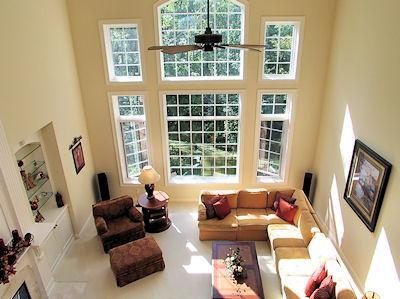 I recently read in the property pages of the Herald Sun that voids above living rooms are gaining popularity.
One quote was "They add to the sense of space and are an affordable architectural feature".
For example this photo from Hooked on Houses
Of course this comment was from someone trying to sell a big new home design.
Disadvantages
I can't deny they are a 'WOW' feature but before you get seduced by the Display Home here are some things to think about:
With all that glass it's probably going to overheat in the summer and lose loads of heat in the winter.
As heat rises it's going to be much cooler at floor level than up near the ceiling, even with the fan running.
How are you going to clean the inside of the windows 5m above the floor or remove spiders webs from the cornices.
Changing light bulbs is going to be a challenge.
It will allow noise to rise up the stairs making it harder to get children to sleep
What about all that blank wall above eye level?
It might be 'affordable' but it is still expensive per square m compared with other rooms in the house.
It always pays to think about how you would use the house, rather than get too distracted by the appearance.