Thinking Of Copying Plans?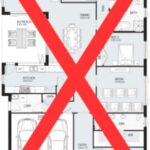 If you go around a display Home the builder's representative will usually give you a brochure with a floor plan.
If you look on the net you can often download their plans, or you can even copy them from a newspaper article.
How hard would it be to get a different builder to build your new house using the same floor plan and save money?
You could even combine the front of one floor plan with the back of another so it wasn't an exact copy.
The best advice I can give you is DON'T.
Why Not?
Some of the reasons are:
Most builders spend large sums of money developing their designs and guard their copyright jealously. If you get caught you could be up for thousands of dollars for breach of copyright. Tens of thousands if you go to court.
A court won't only consider the whole plan, they can still find in the builders favour if substantial amount is the same.
Most reputable builders know the risks of breach of copyright and being made a co-defendant in a legal case and won't want to build your house.
If you find a builder who will build to the plan he is unlikely to be reputable. Do you really want your house built by a dodgy builder?
If you copy a standard layout it will still cost several hundred dollars to get all the remaining plans drawn up to a level where you can get building permits and approvals.
Here are some of the ways people have been caught:
They asked the builder for a price on the house on a particular block. When the builder didn't get the job they checked on the design of the house as it was built.
The contractors laying the concrete base recognised the layout as the big builder was a major customer of theirs.
The frame fabricators recognised the layout as the big builder was a major customer of theirs.
Buying a set of plans can cost from a few hundred dollars if you use a standard plan,
if you use an architect it could be thousands.
Here are a couple of websites that are worth a look.
http://www.ozehouseplans.com.au/
http://www.homebuildersaustralia.com.au/house-plans.html