5 Ways To Complete A Newly-Built Home
Guest post by Laarni Jenkins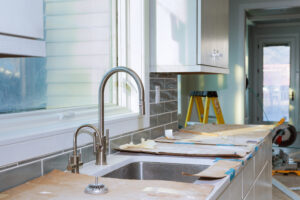 Building a new home is a long, tedious, but rewarding process that's only a dream for most people.
When it's finally time to move, it can indeed be one of the most exciting points in your life.
However, unless you hired an interior designer before moving in, or your house is one of those Sydney custom home builds, in Australia, you'll likely find your new home in need of a few touches until you can finally say it's complete.
So, what can you do next after you've moved all your things into your new home but it still feels kind of incomplete?
Here are five things you can do to complete your newly-built home:
1. Clean Up And Organise
Newly built homes will often still have some debris and dirt spread around both inside and outside.
If you haven't done a thorough clean-up yet, start a detailed general cleaning and leave nothing behind.
Use a damp cloth to get rid of dust and particles, and finish with a vacuum to get rid of any remaining particles.
Organise your stuff—from your furniture items and appliances to your decors and your wardrobe.
Take out your favourite decors, both old and new, and make your new space look homier.
2. Work On Your Front Yard And Backyard
Depending on what you had in mind as your project timeline, many homeowners prefer to move in the house before doing any landscaping work on their front yard and backyard.
If yours still look a bit barren, you can always breathe life into it with a bit of some landscaping effort.
Start by planning how to do your landscaping.
Think of new plants, outdoor furniture, and a suitable layout.
Your front yard is what will create the first impression of your home, while your backyard can be a relaxing mini-getaway for when you want to unwind.
3. Install Air Purifiers
Your newly-built home may look good, but does it have fresh, clean air?
If you made a list of new gadgets and appliances to buy for your new home, make sure to include an air purifier.
Depending on the size and model, an air purifier may be costly, but coming home to a space with air quality that gives you peace of mind will be worth it.
If an air purifier is not an option given you've exhausted your savings on your house build, a cheaper and more natural alternative is using air-purifying plants instead like the spider plant, bamboo palm, chrysanthemums, and golden pothos.
You can also work on maintaining good ventilation by opening windows and using vents or fans indoors.
These will not only make your home look fresh, but you'll also feel fresher and cleaner indoors.
4. Add New Lights
One of the best decors you can add to highlight the best parts of your newly built home outdoors is landscaping lights.
You can also use decorative lights indoors, especially in bedrooms and living areas.
Also, try decorating your interiors with lamps.
You can use floor lamps or table lamps in corners that have poor lighting.
If you have art pieces, try installing mini-spotlights to make them stand out.
When done creatively and strategically, lighting fixtures can make a big difference both in aesthetics and in function, especially when the night comes.
5. Decorate With Flowers
Colourful flowers, especially when they match your home's theme, can easily make a room prettier.
If you have easy access to fresh flowers, use them to decorate your new house.
Try potted plants, which are perfect for table centrepieces or hanging flower baskets for the kitchen or the patio.
Cacti in pots are also popular in home décor and are perfect if you want real plants that are low-maintenance but still decorative.
However, if the upkeep real plants require is not for you, there are other eco-friendly alternatives like silk or fabric flowers.
If you love DIYs, try your hand at making paper flowers, which are popular alternatives to fresh flower décors.
Conclusion
Completing a newly-built home can be a rewarding activity, especially when planned with a specific goal in mind.
Before getting settled, take time to do a thorough clean up indoors and outdoors.
Organise all your stuff properly and decorate creatively with function in mind.
Once your new build feels like the home it should be—relaxing and comforting—you can finally settle and bask in that fulfilling feeling of having a beautiful space you can call your own, and something you've completed with your hard work.
Author Bio
Laarni Jenkins  Laarni Jenkins is an interior designer. She writes blogs during her free time for various home design online publications. She is married with two sons. She enjoys cooking, gardening, and playing with her children. Laarni also loves travelling and yoga.