The most common frame for the standard brick veneer house uses timber. Steel frames however are becoming more common. Why should you choose one or the other?
Advantages of Timber
Well understood by builders.
Cheaper.
Easy to adapt or modify during construction or later.
Is a sustainable resource.
Lock away carbon.
Easy to fix fittings into.
Better sound and heat insulation.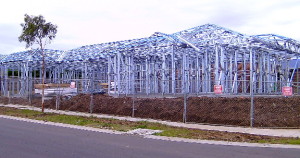 Advantages of Steel
Cannot be attacked by termites or borers.
Prefabricated frames are lighter than timber.
Doesn't have to be treated with chemicals.
Doesn't rot.
Doesn't shrink warp or twist.
Doesn't burn.
Inside a building rust should not be a problem, but just in case most steel frames are galvanised.
All my houses up to now have had timber frames and I have been happy with the result so I would probably continue to use timber if I was getting someone else to erect it. If I was planning to erect the frame myself I would probably go for steel for the weight saving.