Sink or Cook Top on Island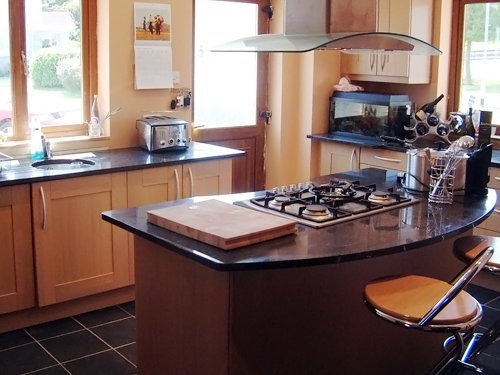 I see a lot of island kitchens in display homes and when visiting friends……..one thing that puzzles me is that they all have the sink in the island unit.
In my opinion it's better to have  the cooktop on the island (like the above photo) and the sink under a window, or wall, for the following reasons:
If you are having friends round for a meal, or even just talking to the family, you will be facing them while you cook.
Because of the extra pipe distance to get to the island bench it generally takes a long time for the hot water to get to the mixer.
Washing pans, or peeling veggies, are tasks where you don't need to concentrate so its nice to look out of the window.
One problems is  you will  have less choice when it comes to range hoods, and perhaps need a more powerful model for the same effect.
If you really want a sink on the island, have the main one elsewhere but have a smaller sink at one end of the island. You will probably only need cold water to this sink but make sure you have a high outlet, so its easy to fill pans with water.
For similar posts see Selection