Additional Electrical Fittings
Most builders standard electrical fit out is fairly pathetic.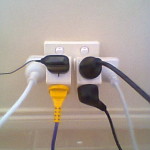 A single batten light fitting and a couple of double power points in each room!
I have even seen single power points!
Typical Builders Prices For Electrical Upgrades
Downlights –  $130-160
Pendant Lights – $180-$300
Ceiling Fans  – $300-$600
Bathroom 3 in 1 fan/light/heat (non ducted) – $350+
Double Power Points – $70 – $80*
Outdoor Double Weatherproof Power Point – $130 – $150*
Outdoor Light- $100-$200
*Generally the difference in price between a single and a double is minimal so always get at least doubles.
Other Options
Doing A Deal With The Electrician
In the past, with a small builder, I have been able to deal directly with the electrician but that is very rare.
Most of the Bigger Builders see electrical upgrades as the 'Cream' on the contract and won't allow any side deals.
After Handover
You can get separate prices for the additional fittings after handover.
The problem then is that running cables behind plasterboard isn't quick, or cheap, so the savings may not be there. (It may even be more expensive)
Hints To Save Money
If cost is an issue here are some hints:
Down Lights can give an impressive effect but they are the most expensive way to light a room! (Also see this link to Why I don't like Down Lights) Unless You are training to appear on 'THE BLOCK' a simple Oyster fitting will be fine for most rooms and cost less than $20.
Put a double socket in the middle of where any bed head is going to be. . You can then run 2 power board  giving your 4 sockets on either side of the bed.
Place sockets you want on internal walls rather than external walls. . . The cheapest way to add a 2nd socket, after handover, is back to back with an existing socket in the next room.
Externally flood lights are expensive, give a harsh light, and are too directional . . . A cheaper fitting with a low energy bulb can give a better result.
If the standard bathroom fit-out includes an extraction fan I wouldn't bother with one of those 3 in 1 Units. (See this link for more information why not: 3 in 1)