When Did Your Construction Contract Start?
If there has been delays in a house building contract the question of compensation comes up (see this link: Liquidated Damages )
A key factor in assessing damages is knowing when the construction contract started; as it isn't written in the signed contract.
In order to avoid paying out damages many builders will dispute when the start date is!
They may argue about the date, or even try to say the start date is when the slab is constructed.
Here is some information to make you better informed about the start date.
Definitions
Well here are the definitions in the two most common forms of contract for new houses
Master Builders Contract (2015 Victorian Edition) :
"Commencement Date – means the date by which the Builder will commence to carry out works on the land" ( according to the standard contract the builder is supposed to advise you of the start date, but this doesn't always happen)
Housing Industry Association HIA (2015 Victorian Edition):
"Commencement – means the day on which the Building Works commence on the Building Site"
To me that means  'The day the builder erects a temporary fence, and installs a portable toilet'.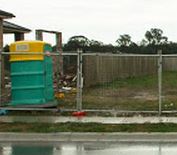 Recording  the Date
Once you know the temporary fence goes up make sure this is recorded by:
Taking a photo with a camera with a date stamp; or
Taking a photo with a phone camera and Emailing it to your self.
It also doesn't do any harm to Email the Builder saying you have noticed the contract started on a particular date. . . . This will put the builder on notice that you are aware of the issues relating to delays.
Delays
To check up about delays during the build follow this link: Contract Period