Electrical Planning – Master Bedroom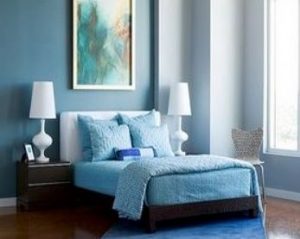 Perhaps you agree with most builders, who seem to think a couple of power points in the bedroom is fine………….. Well I think that's nowhere near enough and here's why:
Starting on my side of the bed I have:
Table lamp
Radio alarm,
Mobile phone charger.
Lap top charger so my wife or I can browse the web on weekend mornings.
As a result I have a 4 way socket so its a good job we don't have an electric blanket.
On my wife's side its:
Bedside reading light
A wireless phone charger
She has a double socket so charges her mobile phone elsewhere.
Next is the TV that's on a trolley so we can move it depending on whether we are in bed or sitting on the couch. To save cables snaking off the trolley we have one of those 4 way power leads which we need for the TV, DVD, Hard Drive, and the wireless Foxtel connection.
Don't forget the aerial socket as well.
We don't like to use the main light too much so we have a standard light to provide low intensity background lighting in the evening.
As we want somewhere to plug in the vacuum cleaner better make all the singles doubles so we have still got convenient sockets.
Light switches are another matter.
We have a three way set up for the main light so we can control it from the door and either side of the bed. the bedside switches are set to be 300mm above the bedside cabinet height
In the walk in robe we have a motion detector switch so we don't have to worry about leaving it on all day (This works very well a long as you have a door to the WIR. The dog sleeps under the bed and if the door is open and he walks round the room in the night the light goes on)
Don't forget the smoke alarm outside the bedroom door.
For similar posts see Electrical
More Electrical Planning including 24 pages of Check Lists