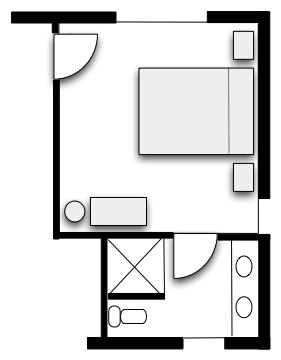 One of the small things that can really make a difference to your house is how doors open……..but its one thing that is frequently forgotten.
This sketch shows a typical bedroom and ensuite layout. (I know it doesn't show the wardrobe but I'm trying to keep it simple)
A couple of things you need to think about are:
Into The Room Or Not
You will see as usual the doors to open from the corridor, into the room or into the en-suite from the bedroom as in this diag.
Particularly in the case of bathrooms and en-suites it makes a lot of sense for the door to open into the bedroom as this makes a lot more usable room in the bathroom.
It also minimises the risk of sending my wife flying if I open the door while she is at the mirror putting her make up on.
In the case of separate toilets its actually much safer to have the door open outwards.
Left Or Right Handed
How to tell – When you look at the door from the side it opens towards, and you can see the hinges…. which side are they on? That is the hand of the door.
Looking at the door to the bedroom you will see that the door is hinged on the right as you look at it from inside the room.
This works well as the door opens against the wall. Having the door hinged from the left side doesn't seem much different, but it means you have to walk round the door to get out.
It seems minor but in our last house we got one door wrong and it annoyed us every day for 6 years.
You need to get the door opening sorted out before you can finalise your electrical plan as it will affect which side of the door you put the light switches.
Once the wires are installed and the drywall installed changing the door direction can be a major cost.
More on doors including 24 pages of Check Lists for your new house choices in the