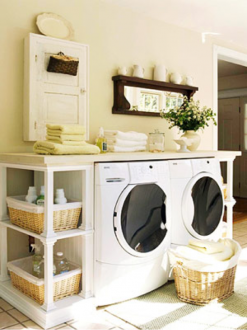 In England the washing machine and dryer are generally in the kitchen.
As a consequence the laundry in our first house we built was tiny. It was just big enough to fit the washing machine, dryer, laundry trough, and a walkway about 800mm wide to the back door.
After ten years in that house we decided that the next laundry would be bigger.
Our current house has a laundry that includes room for washing baskets, and a linen press. We also have room to store the ironing board, brushes and mops. I am still not sure however I have got everything the laundry right.
I have tried to list all the things below you might want in this undervalued room besides having a home for the laundry appliances and the trough:
Baskets for dirty linen and clothes baskets.
Room for baskets of laundry brought in from the washing line before they are folded
Storage of soaps, detergents, toilet rolls.
Room to set up an ironing board.
Rail for ironed clothes.
Airing rack.
Laundry press.
Television, to watch while doing the ironing.
Hooks for gardening clothes and a boot storage rack.
Pet food storage.
Dog basket.
Storage for mops, buckets, brushes, and a vacuum cleaner.
I am not saying you need to have room for all these things but its worth considering what space you want.
Other things to think about are
Installing a floor drain to protect the rest of the house in case of floods.
Putting the machines on a plinth to save all the bending over.
Making sure a drier can be vented to the outside.
Plumbing to allow grey water to be collected for garden watering.
Do you have any tips for laundry planning?
See Electrical Planning for Electrical fit out of your Laundry