Why does the builders standard outside light fitting seem to be a floodlight?
In my view they are quite unsuitable:
A really harsh light, especially if you are looking towards it.
A fairly limited field of illumination, so you need 2 or 3 if you want all round light.
Typically high power use, although more modern LED floodlights are becoming available/
So what do I recommend?
Bunker Lights
I have found 'Bunker Lights' to be a great light source for my backyards.
This is the one in my current backyard.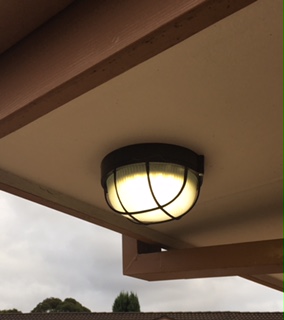 I like them because:
They are inexpensive,
Give a soft 360 degree light,
Water proof,
Can be wall or soffit mounted,
Available in a range of styles;
and this LED example only uses 4 watts. (that's $0.01 for an hours use!)
It replaced a 150 watt flood light that cost $0.4 per hour to run.
So when you go for your Selection Meeting don't forget to specify bunker lights for your backyard/