The Best Brands for Your Bathroom
Guest post by Hubert Dwight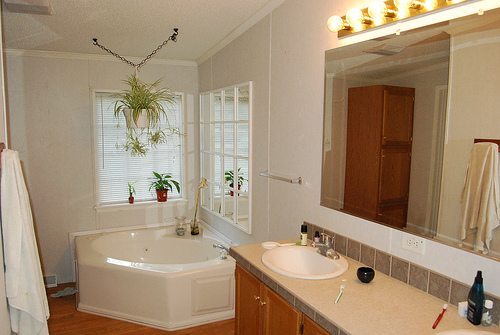 The bathroom is no longer just another room in your home.
Neither is it a place just to take a shower nor a place to stock your towels.
The modern bathroom is a place of rejuvenation, relaxation and meditation; the ultimate me-only place and a real pampering zone at its best.
Whether you are after an energized shower before going to work, or you want to relax your mind while in a warm Jacuzzi, or you desire a long candle-lit soak in the bath before going to bed, the bathroom is arguably one of the best rooms in your home.
However this is only the case if it is well structured, using some of the best and most exotic brands that can be found on the internet..
If you are living in Australia and are interested in a technologically advanced bathroom that is classically and elegantly designed, then you are bound to look through an assortment of brands.
You want brands that offer you convenience, simplicity, enjoyment and innovation within the confines of your beautifully made bathroom.
Below are some of the best brands that will offer the best in bathrooms.
Caroma
Caroma is without a doubt the best bathroom brand that can be found in Australia, but also compares well around the world.
The brand's commitment to top-notch excellence in design and water conservation is unrivaled in the bathroom market.
Structured around the philosophy of high efficiency, beauty, excellence and innovation, Caroma is the undoubted industry leader in terms of high efficiency toilet suites,  as well as technologically advanced bathroom basins, bidets, and showers.
As a company, Caroma employs highly educated, advanced, experienced and creative engineers to ensure that your bathroom is structured not only to suit your needs, but also to offer ultimate style that can only be dreamed of by others.
Whether you are in need of a simple and traditional bathroom or an ultra modern bathroom that comes with 21st century technology, Caroma is, without a doubt, your only solution. Their flexibility ensures that their design suits both residential and commercial bathrooms.
Grohe
As one of the best bathroom tap ware and mixer brands in Australia, Grohe has an extensive portfolio of bathroom products.
From showering solutions to bathroom accessories, Grohe has an extensive selection of the best products for you to choose from.
They are among the best when it comes to creating consistent and stylish bathroom designs that revolve around crisp and chamfered detailing that is ideal for modern bathrooms.
Even though there are a whole lot of bathroom brands available in Australia, Caroma and Grohe and JustLuxe are among the best brands that cannot be ignored. Whether you are after luxury, modern advancement, simplicity or elegance, these are definitely your options for the best brands in bathroom matters.

You should, however consider the most widely available brand first, as there is a better chance of being able to get hold of these products, rather than having to wait for a long time until such time as stock has landed in Australian outlets. Choosing Caroma is a great choice for this reason, as you won't have to wait long for delivery.