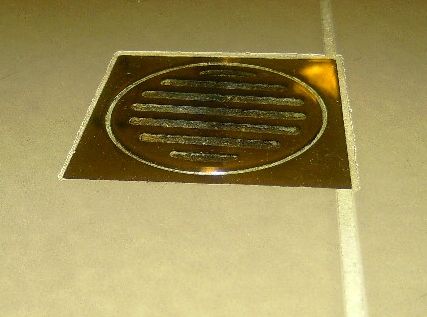 Up until recently we have never had floor drains.
Now we have them in bathroom, laundry and the walk in shower.
I'm quite impressed and would definitely specify them for another build.
Having had one washing machine overflow in the past I think they are a great idea to give you added security against internal flooding.
Some things to plan
So what does it mean if this is the way you want to go?
For them to be fully effective the floor needs to slope down to the drain at least 1:80 (13mm in 1m), preferably 1:60 (17mm in 1m).
The normal procedure is to cast the slab in the room 25mm below the main slab.
A cement grout bed is then laid on the slab, at the appropriate fall to the drain, before waterproofing and then tiling.
Shower Drains
If you are going to have a walk in shower it can be neater to have a rectangular floor drain like this one.
This example has a stainless steel finish but you can also get covers with a tray that you can fix matching tiles in. All you can then see is a narrow slot.
For similar posts see  Plumbing in the Selection Category.
More plumbing information and 24 pages of Check Lists in the 

'Selection / Pre-Start Guide'